Since 1994, Vinéa has specialised in designing and producing oak alternatives aimed at providing high-performance, cost-effective and user-friendly solutions for its clients around the world.
Vinéa controls the fusion of oak and wine
Aromoak oak alternatives effortlessly create, control and replicate the optimum natural extraction and enhancement conditions afforded by oak-contact maturation.
Environment
Vinéa protects natural resources by using every single piece of quality oak. Also, our Aromoak oak alternatives can be used for organic winegrowing as per EU Regulation n° 834/2007 – Implementing Regulation 203/2012 and NOP regulations.
Management
During the production process, the winegrower or winemaker manages complex criteria – the type of oak compounds, toast, product usage timing, quantities and assessment of soaking time.
Depending on the defined objectives, Aromoak oak alternatives can adapt tannin structure, volume, finesse and aromatic complexity, along with colour stabilisation, erasure of vegetal notes, freshness and sweetness.
To allow these choices to add significant aroma and flavour benefits to the wine, Vinéa's teams are on hand to provide advice and support.
Provenance
The Aromoak oak alternatives come from the finest origins and oak species in Central France, the United States of America or Eastern Europe, as is the case for the finest barrels.
Drying
Vinéa dries the wood for 36 months in the open air with no sprinkling, guaranteeing the quality of the Aromoak French oak range.
Brazier toasting
Brazier or traditional toasting uses a fire fuelled by pieces of oak. This cooperage-style technique has been recognised for centuries and is used to toast barrels and produce a subtle aromatic profile. This process is recommended for lengthy maturations.
Toasting using in-depth ceramic heat
Toasting using in-depth ceramic heat ensures consistent quality, offers excellent colour consistency and guides the aromatic profile of the wood.
This process was developed specifically by Vinéa's R&D department. It reproduces the benchmark toasting principle used in cooperage whilst at the same time allowing optimum, in-depth thermal degradation and revealing the aromatic potential of the oak without introducing a smoky touch. Vinéa's innovation promotes in-depth toasting, imparting sweetness and finesse.
Hydro toasting
The wood is saturated with steam from magnetically treated water prior to its toasting using ceramic in-depth heat. This exclusive procedure is gentle, protects the integrity of the wood and preserves fruit and freshness in the wines.
The range
All oak alternatives in the Aromoak range are toasted as planks of wood before being cut into formats suitable for the desired maturation. This method ensures impeccable consistency and quality of the profiles, irrespective of the product used.
Chips
These are available as fresh or toasted chips (wood fire or ceramic heat) for winemaking or maturation. They are packaged in 10 kg bags and recommended for maturation periods ranging from 1 to 4 months.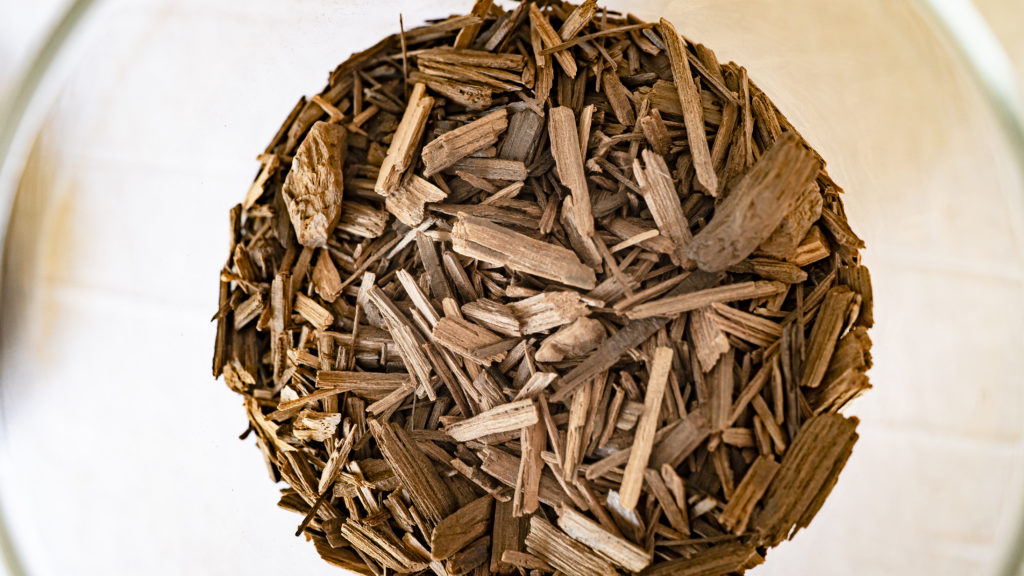 Segments
Toasted chunks of oak approximately 5 x 5 x 1 cm in size, packaged in 10 kg infusion mesh bags. They are available in natural oak toasted by wood fire, ceramic heat or hydro ceramic toast. They can be used from the winemaking stage and for maturation with a contact period ranging from 4 to 7 months. Available in oak from France, Eastern Europe or America toasted using ceramic heat.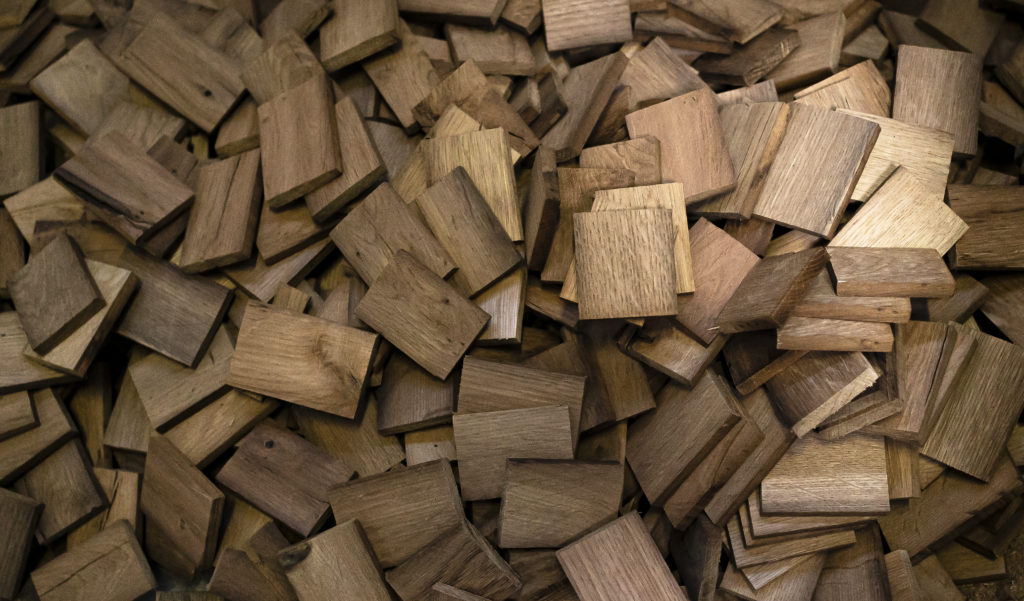 Barrel inserts
Inserts are composed of sections of 9 sticks of oak fixed to the bung hole of the barrel to be enhanced using a stainless steel hook. Offering ease of use, they support the profile of wines spending time in used barrels.
The selected format is calculated by factoring in the maturation objectives, with each section approximately equivalent to 10% new wood for a 225-litre barrel.
They come in 2 to 20 sections, in natural oak, toasted using a brazier, in-depth ceramic heat or hydro ceramic toasting. They are available in oak from France, Eastern Europe or America toasted using ceramic heat.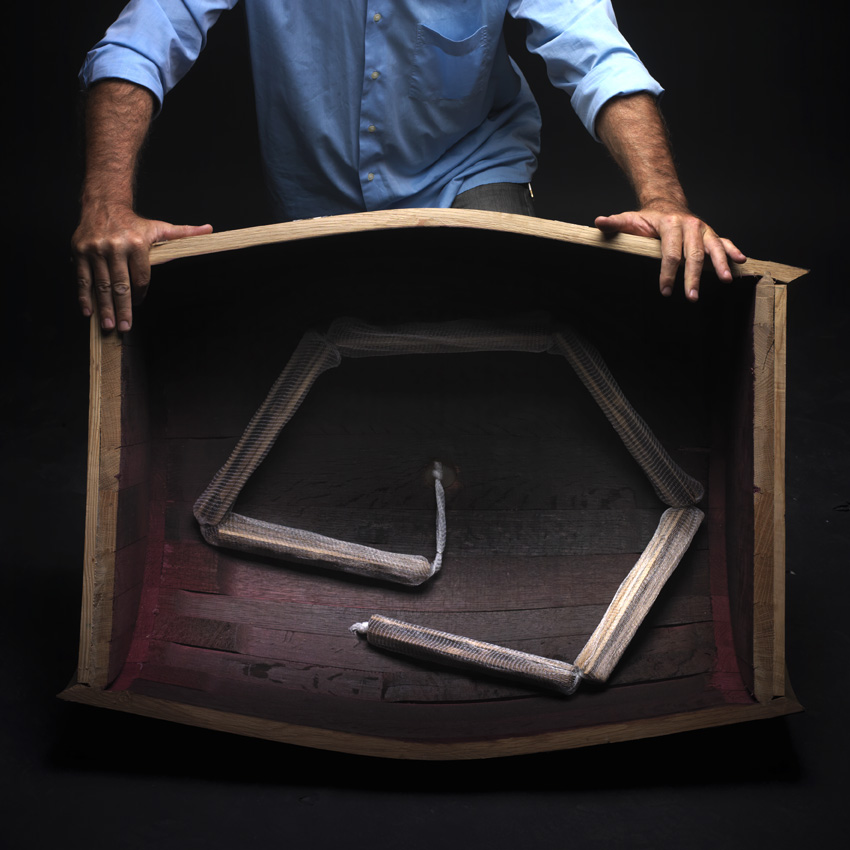 Stave planks
Aromoak stave planks are 91 x 5 x 1 cm and are bored so that they can be suspended in tanks. They can be sold in individual units or in chains of 17. Easy to use, this format is the most suitable for maturation periods exceeding 7 months.
Available in wood fire, ceramic heat or hydro ceramic toasts, they can be blended to add greater aromatic complexity.
They are available in oak from France, Eastern Europe or America toasted using ceramic heat.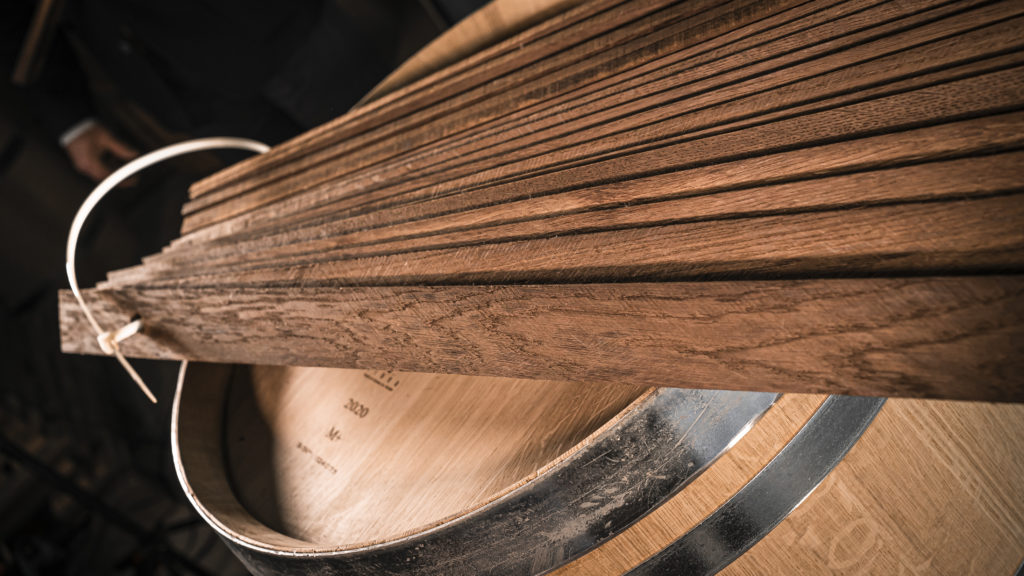 Thick planks
These French oak planks are 18mm thick and come in ceramic and hydro ceramic toasts. Their format is very similar to the thickness of a stave and they are therefore suitable for top quality, lengthy maturation processes.